MiiR & One Day's Wages Fight Water Poverty
So a fish walks into a bar, the bartender says, 'Hey there, what'll you have?' The fish, surprised by the question, looks at the bartender and replies with an obvious tone, 'WATER!'
A favorite cheesy joke for us folks at Huckberry – and one that humorously highlights one of life's most basic and often overlooked needs, clean water. A few facts to consider:
• 4,500 children die a day from not having access to clean water
• Nearly 1 billion people don't have access to clean water
• More people die each year from drinking unclean water than all forms of violence combined
• 80% of worldwide diseases are attributed to unsanitary water
• 2.6 billion people live without a safe, sanitary toilet
We could go on with the statistics, but you get the idea. And, as you may know, there is never just one cockroach – the ill-effects of water poverty extend well beyond the graveyard, and manifest themselves further by undermining health, education, economic, and gender equality progress.
While the severity of the water crisis is somewhat new to us at Huckberry, Bryan Papé and eco-friendly water bottle company MiiR, along with Phillip Keeton of the One Day's Wages non-profit, have been tackling water poverty head on together since 2009. Through their joint one4one campaign, MiiR donates $1 from every water bottle sale to One Day's Wages, which uses all 100 pennies to provide one person with clean water for an entire year. One dollar, One person, One year. And one WOW from us.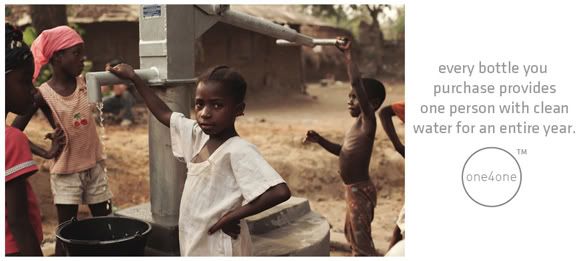 After an introduction, and subsequent conversations with Bryan Papé, founder of MiiR, we decided to get involved. And if you're going to get your feet wet, you might as well go swimming…
Bryan and Phillip were kind enough to allow us to support their efforts through a sale of MiiR bottles on Huckberry. For every MiiR bottle we sell on Huckberry, MiiR and Huckberry will donate $6 to one4one. Six dollars, six people, one year of clean water – all from your purchase of one water bottle that is so ingeniously designed, you would probably buy one independent of our charitable contribution.
While our involvement with one4one is passive at best (writing a check from our San Francisco office), we are psyched to be part of this great effort to help MiiR and One Day's Wages take on more projects – from water wells to water filtration systems. History in the developed world will likely record our contribution as a rounding error, but the proceeds from this sale will make a HUGE impact where these water projects will take place.

Photo courtesy of Nuru International.
We appreciate MiiR and One Day's Wages inviting us to participate in this great cause and see firsthand how commerce and philanthropy need not be mutually exclusive. As a young company, we've been in search of a cause to rally behind, and this is a great start.
About One Day's Wages
One Day's Wages is a grassroots movement of people, stories and actions to alleviate extreme global poverty. ODW encourages individuals to donate a day's wage (0.04% of their annual salary) to the movement. Through this simple generosity, ODW is able to grant 100% of these funds (minus credit card fees) to small NGOs and CBOs throughout the developing world that are having a real and meaningful impact in the lives of people that live on less than $1.25 a day.
Check out this video from ODW founder, Eugene Cho, and visit the website to view their various initiatives and find out how to get involved.
About MiiR
In 2009, entrepreneur and outdoor adventurer, Bryan Papé wanted to create a more functional, lifestyle water bottle. A bottle that would be simple to use and could also be uniquely customized. In the process of creating MiiR, Bryan learned that nearly a billion people don't have access to clean drinking water. Wanting to help, he incorporated an initiative called one4one, directly into the brand. One dollar of each MiiR bottle purchased provides one person with clean water for an entire year. The full $1 donation, all 100 pennies, go directly to those in need.